Basic FATE (Focus Assessed Transthoracic Echocardiography)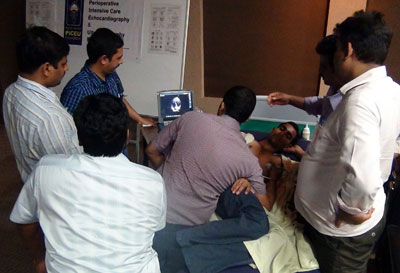 FATE, designed by Prof.Erik Sloth (Denmark), is the pioneering Point of care Ultrasonography (POC US) protocol which is easily and quickly learned and can be applied in all clinical scenarios – pre/perioperatively,in hospital and in intensive care or emergency settings.
PICEU Foundation has adopted the same concept. The workshop is a simple and effective roadmap to learn how to perform and interpret echocardiographic findings and put them into the clinical context. The FATE workshop covers all content described in other POC US like FoCUS, FICE, or similar concepts. The British Intensive Care Society has approved FATE for FICE( Focused Intensive care Echo ) accreditation.
Workshop objective
The objective is to provide the course participant with basic echocardiographic skills for physicians who are not specialists of cardiology in order to guide cardiac optimisation. This includes the basic imaging views and M-mode for cardiac dimensions and right and left ventricular function.
Pre-workshop learning material
All theory is provided according to the unique USAbcd e-learning concept. Piceu foundation makes this e-learning material available either in internet based interactive format or in pdf format. Please note that the FATE e-course is the most comprehensive course which includes M-mode Examination.
E-learning covers: introduction, equipment and skills, basic imaging views, M-mode (not FICE), cardiac function and pathology.
It is advisable to complete all e-learning modules prior to the workshop.

The following topics will be covered or offered on the workshop in groups of 4-5 participants only.
Basic cardiac views including Pleural scanning and IVC exam
M-Mode
Right and left ventricle function
Basic clinical scenario training
Pre-course qualification
No prior echo experience is required.
Who can attend?
Physicians from all specialties e.g.: Anaesthesiologists, intensivists, emergency physicians, internal medicine physicians, surgeons, general practitioners. In fact all healthcare workers dealing with hemodynamic problems in their day to day practice.
Language
English
Certification
A certificate is issued after completion of the e-learning and the workshop.